Meet Raleigh Mom Caitlin Baumberger, owner of Happy Tines design and hand lettering studio. If you haven't been lucky enough to see her work, Caitlin makes gorgeous wedding stationery and custom designs. Head on over to her website to see these beautiful pieces. Between now and October 31, 2019, use code 'SWRM10' to get 10% off all art prints in the Happy Tines Etsy shop. Caitlin shares how she got started and what her life as a mom to her 2-year old son, Wesley, looks like.
Where are you from originally and how long have you lived in town?
I grew up in Mooresville, NC and I went to Meredith College in Raleigh where I graduated with a BA in Graphic Design. I currently live in Apex with my husband, Ben and our 2-year old son, Wesley. We've lived here for 3 years and we love the area!
Children and Ages?
When I'm not working, you can find me chasing my toddler around, working out, visiting breweries with my family and taking trips to Asheville. We love Asheville! 
One thing people would be surprised to know about you…
We love taking Wesley to the library, Pullen Park and to the Museum of Natural History.
Anyone special you'd like to thank for helping you through parenthood?
My husband, Ben! I have no idea how we would have done this so far without each others support and help. Parenthood is the hardest thing in the world but also the absolute biggest blessing and I'm so incredibly thankful that my husband has been there every step of the way.
Favorite things to do with your kids?
We love taking Wesley to the library, Pullen Park, and to the Museum of Natural History.
Are you involved in a business venture, a local organization, a creative endeavor, or in the corporate world? 
I'm the owner and designer of Happy Tines, where I design custom wedding stationery and illustrated maps for brides across the country. I also teach hand-lettering and calligraphy workshops in and around the Raleigh area, and I have an online shop where I sell illustrated stationery and art prints for both wholesale and retail.
Right after college I worked as a corporate graphic designer and soon I craved a different creative outlet. So during the summer of 2015, I decided to sign up for a calligraphy class because I crae. It was just what I needed and I loved learning a new skill! I practiced regularly for months and eventually developed my own unique modern calligraphy style. I got engaged in 2014 and I designed my own wedding invitations and addressed my own wedding envelopes. Around that time, I had a few best friends also get engaged and they hired me to design their wedding invitations and do their envelope calligraphy. I went from designing for best friends, to friends-of-friends and it snowballed from there. I officially opened my business in 2016. I currently live in Apex with my husband, Ben and our 2-year old son, Wesley. We've lived here for 3 years and we love the area! I do my best to balance being a toddler mom and a small business owner. It's a lot of work but so rewarding to do what I love everyday!
What does this community mean to you/How has this community been instrumental in getting you to where you are now?
I have such a great appreciation for local small businesses and I love supporting each other. I partner with local shops and boutiques to sell my cards and prints, and my calligraphy and lettering classes are taught at locally-owned venues. "Shop local" has a whole new meaning now that I am in it and it fills me up when we can come together and support one another.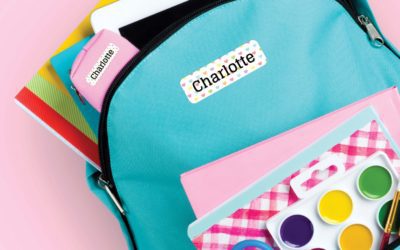 School's finally out for summer, but for parents, it's just about time to start thinking ahead to Back to School! Making a game plan now for August and September, including ordering some key supplies including Name Bubbles.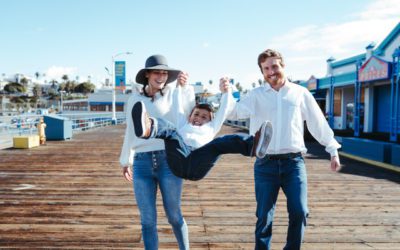 Learn how to fundraise with Shoott!
Kirsten Pierce, certified registered nurse anesthetist, mother to two amazing children, wife of an incredible husband and dog-mom of two fur babies, a Great Dane named Finnegan and a Lab mix named Layla. Besides her role of 'super mom,' Kirsten has now added the...