After Kristin Cavallari first found fame on Laguna Beach in 2004, she went on to star on The Hills, and then parlayed reality stardom into other career opportunities, including several clothing, jewelry and shoe lines (her most recent include Uncommon James and children's line Little James). She also published two books, an autobiography and a cookbook. On the way, she's married former NFL quarterback Jay Cutler and had three kids, including two sons (5 and 4) and a daughter (2). Now, she's executing producing her own reality show, Very Cavallari, which airs Sundays at 10 pm ET/PT and 9 pm CST on E!, and documents her life as a businesswoman, wife and mom in Nashville (although her children are not featured regularly). We spoke to Kristin about her decision to reenter reality TV, what she thinks of The Hills reboot, the future of her businesses and more.

How did Very Cavallari come about?
Initially I wasn't really supposed to be on it…I met with the production company about a cooking show and then decided to do a show about my company. It was going to be about my staff, so it was a no brainer. But early on, the scenes between Jay and I really resonated with everybody, and they wanted to focus the show more on my life. Producing a show has been on my bucket list. Having that creative direction has been really enjoyable and I'm having such a great experience.
If you were to make a guest appearance on The Hills re-boot, who would you want to appear with and what would you want to talk about?
I guess if I was to do it, it would be Audrina and Heidi, because I still talk to them…but I can't unfortunately, because of Very Cavallari.

We love your clothing line for kids, Little James. How do your little ones contribute to it?
They inspired it—they really did. I ask their opinions. I want to balance what I want my kids to wear with what they want to wear. [My son is] standing here in head to toe Little James, actually…My kids have a very active lifestyle but I still want them to look cute, so it's all about function meets fashion.
On the show, Jay is shown taking on more at home while you're growing your businesses. Do you think every husband/dad should do this at some point, if that's not their usual role?
I think everyone is different but it's working for us and I couldn't do it without him. He's really enjoying being home, the kids love having him here and it gives me the opportunity to what I want to do.
Sounds great. So…would you let your children go into the same career paths as you and Jay?
They're young so I'm not worrying about that yet. If they want to be in television…[maybe] once they're 18. We don't live in Los Angeles, so it's harder for them to do that stuff [now anyway]. Football? I would discourage it. It would be hard to watch my boys out there getting hit. It's a conversation that Jay and I have to have in the next few years. 
What's your mom uniform? And 5-minute makeup routine?
My makeup routine is just mascara, filling in my brows and dry shampoo! And if I'm with my kids, I really do wear just leggings and gym shoes. But if I want to put in a little more effort, I'll throw on jeans, a cute top and comfy shoes for running around.
What do you think you would be doing if you hadn't been cast on Laguna Beach?
 I really wanted to go to school to study broadcast journalism, and wanted to be in the entertainment industry, so maybe I would have made my way into that area—who knows?!
You've moved several times with Jay and the kids. How do you make a new house feel like home quickly?
Light a good candle that you love and start cooking. It gives a house that warm feeling!
People feel like they know you, from television, interviews and your books. What would surprise them about you?
Probably that I'm a homebody—I just like hanging at home with my family. On a Friday night like tonight, we'll have dinner with the kids at 5:15, hang out, do bath, jammies, kids in bed at 7:30 and jay and I will hang out and I'm usually in bed by 9:15.
Sounds a lot like a lot of Friday nights for most moms! If you had a whole day to yourself without kids, what would you do?
I would sleep in, then go to brunch at Café Rose in Nashville. That's the one thing I miss since having kids! I would go with girlfriends. After, I'd get a massage and maybe do some shopping. Or I would do nothing and it would the best!
For more interviews with inspiring women, including famous moms like Denise Richards, Ali Fedotowsky-Manno, Emma Heming-Willis and Laura Prepon, visit our Profiles section.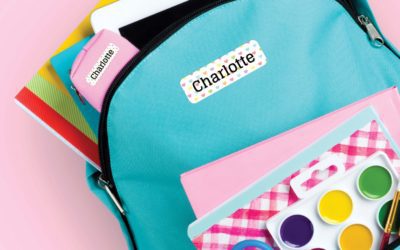 School's finally out for summer, but for parents, it's just about time to start thinking ahead to Back to School! Making a game plan now for August and September, including ordering some key supplies including Name Bubbles.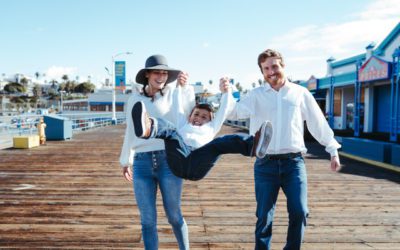 Learn how to fundraise with Shoott!
Kirsten Pierce, certified registered nurse anesthetist, mother to two amazing children, wife of an incredible husband and dog-mom of two fur babies, a Great Dane named Finnegan and a Lab mix named Layla. Besides her role of 'super mom,' Kirsten has now added the...