Sara Gore is an Emmy Award-winning TV personality, who has co-hosted lifestyle show New York Live! on NBC 4 NY for the past ten years, as well as the popular home show Open House. She has interviewed some of the biggest stars in Hollywood, politics and the arts, including Anna Farris, Jay Leno, Eva Longoria, Kelly Clarkson, Viola Davis and Hoda Kotb. Fans of the media personality might not realize, however, that Sara got her start in the food industry, working as a line cook for mega chef Jean-Georges Vongerichten and as a personal chef. Recently, she turned that passion for food into Recipe Revamp with Sara Gore, a program where she takes restaurant dishes and recreates them in her own kitchen for the home cook. We spoke to Sara, who is also mom to three kids (7, 5 and 2) about her diverse career, life as a mom (including getting picky eaters to try new foods!) and more.
Wow, ten years on New York Live!—that's like a hundred in TV years. What keeps it fresh?
I love that even though I'm going to the same place every day I'm doing something different and meeting new people. I love the team I work with. We feature these amazing things in New York and it keeps me up to date on the best restaurants and cultural spots to visit that I might not otherwise know about.
What's your biggest challenge as a working mom to three?
I think every mom deals with fighting the work/life balance. I've gone back and forth in my mind when I miss things at school or things they're doing, but it's important for them to see me go to work and love what I do. I would never want them to think it's something I was forced to do. They love coming to set and I like showing them hard work pays off. Having said that, when I'm here, I often feel bad about it, but I'm coming to terms with it every day. When I'm with them, I'm with them. When I put them to bed, then I do my own homework for the next day. When the shows are done, I think about what I'm making for dinner…
Speaking of dinner…can you tell me about this Baked Rigatoni recipe you're sharing? It looks amazing!
I love fennel ragu. It's so versatile – you can make the same sauce over zucchini noodles if you're cutting carbs. It has a protein, veggie in starch all in one! You can also make this ahead which is great for a busy mom. I usually double my sauce and put one quart container in freezer and one quart in the fridge.
Good tip! Do you have any strategies for getting picky eaters to dig in?
I've introduced my kids to all kinds of things early on, so that helps. I'll also make things that look familiar to them but are healthier or incorporating new ingredients, like parmesan baked chicken tenders instead of basic chicken fingers. I never want to make separate ingredients for me and my kids but I put them together differently. For instance, if I'm doing steak and a vegetable and mashed potatoes, I'll dice the steak and veggies and top it with potatoes and bake it in a ramekin like a mini shepherd's pie. If they don't want to try I just say you have to try three bites.
You live in Bronxville, a suburb of New York City. How did you choose it?
My oldest son was a year old. We were outgrowing our apartment and my husband and I had lived in city for so long. We didn't want to be too far because of the commute. Bronxville was the closest and so super charming. When I found my house I pictured my kids trick or treating for some reason. And I couldn't imagine my kids trick or cheating in the city, so oddly that factored into the equation. It's turned out to be an amazing place to live, and my train is 29 minutes to Grand Central [Station].
For visitors to NYC, what are must-dos with kids?
There's always great things going on in the parks and at Chelsea Piers. In Westchester, there's the Science Barge in Yonkers, and a nature conservancy. The kids also love both the Central Park Zoo and Bronx Zoo.
Do you have a mom uniform?
I would say comfort is key. I'm a jeans and Chuck Taylor's kind of girl in Spring and Fall. In Winter and Fall, I'm also in Uggs. In summer, caftans and sandals and sundresses. I am dressed in heels for work so I'm always in flats when I'm off. When you have three kids you need to be quick agile and ready to run!
What's next for you?
I'm working on my website which is going to have a lot of food, home and family, recipes…saragore.com. We are also launching a new discussion series on YouTube with designers called Design Talk with Sara Gore. Plus the anniversary of New York Live!
Sara Gore's Baked Ziti with Sausage Fennel Ragu & Toasted Herby Breadcrumbs
½ Onion, diced
1 bulb Fennel, diced
1 C chopped Carrots
10-12 cloves Garlic, chopped
Good pinch Red pepper flake
¼ C Olive oil
1 lb Sweet Italian sausage, casing removed
2 T tomato paste
1 C white wine
28 oz can san marzano tomatoes, crushed
1 bunch rapini, quick blanch, cut into 1 in pieces (or other green veg like kale) (optional)
¼ C parmesan for sauce
1 lb ziti
16 oz ricotta
1 egg
½ C parmesan, plus more for garnish
1-2 T butter
1 clove garlic, minced
¾ C panko breadcrumb
¼ C parmesan
2 T chopped parsley
4 leaves basil, thin chiffonade
salt and pepper to taste
1 C shredded mozzarella
parsley and basil and fennel fronds
Preheat oven to 350 degrees. In a large saucepan or cast iron pot sauté onion, fennel, carrots, and red pepper flake in olive oil. Throw in a couple of good pinches of kosher salt and several cranks of fresh black pepper. Cook until softened, about 8-10 minutes, or until it starts to caramelize.
Add the garlic and sauté until translucent. Add sausage and brown, breaking up all big pieces (using a pastry blender or potato masher is handy for this). This will cook for several minutes. Add the tomato paste and stir through a couple minutes. Deglaze with wine. Allow to cook a few minutes more and add tomatoes.
Bring to a boil and allow to boil about 10 minutes stirring throughout. Reduce heat to medium low, add ¼ C parmesan cheese, cover and simmer for AT LEAST 15 -20 minutes, stirring often. The longer the better. Here's your chance to get some extra veggies in if you like. I alternate green veggies into this recipe. Two great ones are broccoli rabe and kale. Add your green veg to the sauce and heat through. Season with salt and pepper to taste. (This can be made ahead. Sauce always tastes better the next day anyhow! I prefer to make it in the morning and let it simmer all day.)
While the sauce is cooking down … In a large bowl drizzle the melted butter over the breadcrumbs, garlic, herbs and parmesan cheese and toss to coat. Season with a little salt and pepper. Set aside until ready to use.
In a separate bowl, mix together the ricotta, egg, and ½ C parmesan. Season with a pinch of salt and pepper.
Cook pasta al dente according to directions. In an extra large mixing bowl mix the pasta, ½ the sauce, about ¼ C pasta water, and ½ ricotta mixture.
In a 13 x 9 in baking dish coated with olive oil pour enough sauce to coat the bottom, about 1 C. Pour in ½ the pasta mixture.  Spread with more sauce, remaining ricotta, shredded mozzarella, and repeat using all the sauce. Then top with the breadcrumb mixture. Cover with foil and bake 20 min. Remove the foil and bake another 10 min or until breadcrumbs have browned.
Top with extra parmesan reggiano, basil, parsley, and fennel fronds.
This post originally appeared on The Local Moms Network.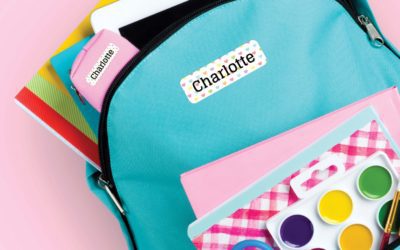 School's finally out for summer, but for parents, it's just about time to start thinking ahead to Back to School! Making a game plan now for August and September, including ordering some key supplies including Name Bubbles.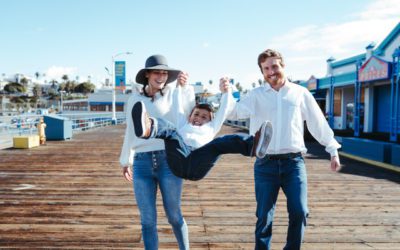 Learn how to fundraise with Shoott!
Kirsten Pierce, certified registered nurse anesthetist, mother to two amazing children, wife of an incredible husband and dog-mom of two fur babies, a Great Dane named Finnegan and a Lab mix named Layla. Besides her role of 'super mom,' Kirsten has now added the...